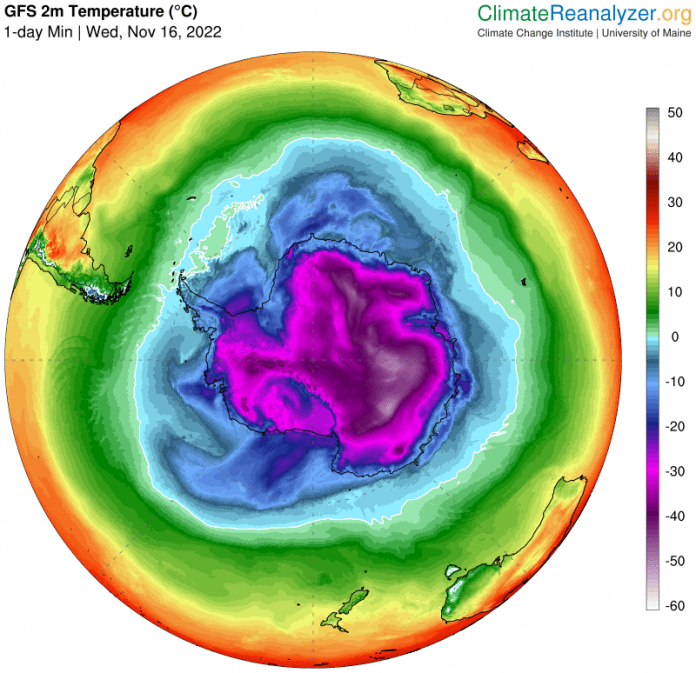 As seen in the Antarctic temperature map above, the joint Italian-French Antarctic station, Concordia, is reporting unusually cold temperatures being sustained during November, the heart of the continent's spring.
Citing a report from the journalist Stefano Di Battista, Electroverse writes, "After logging its coldest 'coreless winter' (April-Sept) on record in 2021, and routinely suffering colder-than-average months ever since, Antarctica is at it yet again."
Electroverse described and linked to a series of tweets from Di Battista in which he says Concordia set new records for cold for the month on consecutive days on November 10 and 11, writing:
On Nov 10, the Italian-French station Concordia… touched -59.7℃ (-75.5℉). This comfortably usurped the previous record for the day (the -57℃ (-70.6℉) set just last year), and also, more impressively, it turns out that Antarctica has never before been this cold so late into the season.
Moreover, just as day later the station sank even colder, reaching a minimum of -60.2℃ (-76.4℉) on Nov 11. This was the latest sub -60C registered in Antarctica since at least 1978, when records began …
Nor has the cold abated since then, with Di Battista tweeting:
Stefano Di Battista @pinturicchio_60 · 12h
"The season progresses but the cold continues in Concordia, Antarctica and it still remains the coldest place in the world
Lows recorded in the last few days
November 14 -52.7 ℃
November 15 -52.4 ℃"