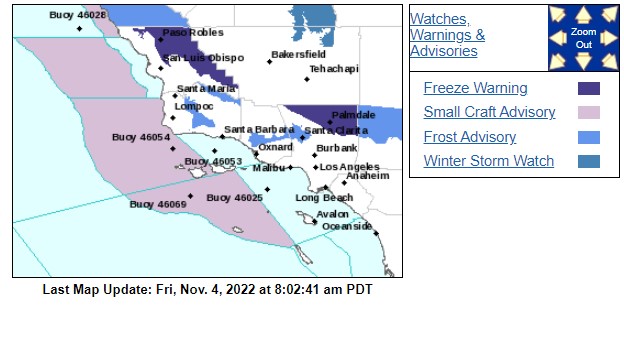 The Los Angeles Times reports:
Southern California mountains saw the first snowfall of the season Thursday morning, as a cold front lingered over the region, bringing chilly temperatures, winds and rain.
Mountain areas from Los Angeles County to San Diego County saw up to 2 inches of snow, accompanied by winds of 20 to 30 mph, gusting up to 45 mph, according to National Weather Service meteorologists. Flurries lasted through the morning until around noon.
The conditions, with flurries and low fog, prompted the California Highway Patrol to provide escorts over the top of the Grapevine on Interstate 5 on Thursday morning, but no major slowdowns or incidents were reported.
Later, it turns out that Interstate 5 was closed due to snow, as reported by The Long Beach Post Grapevine closed after cold storm brings rain, snow.
Cold temperatures and frost were forecast for inland areas by the National Weather Service.