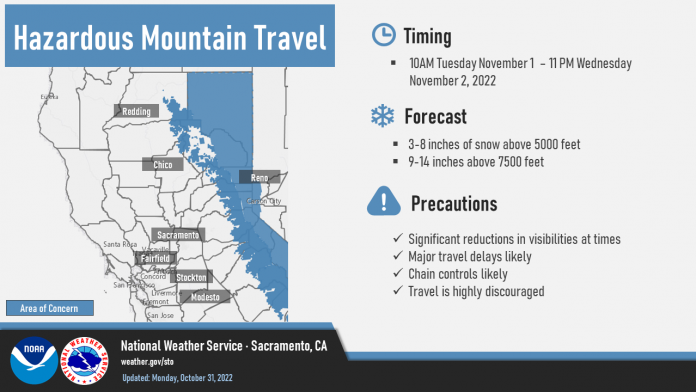 The Sacramento Bee reports:
A few inches of snow are anticipated Tuesday and Wednesday across the Sierra Nevada from east of Fresno to the Oregon border, including the Lake Tahoe Basin. The latest forecasts call for 3 to 8 inches at elevations above 5,000 feet, with up to a foot possible at 7,500 feet or higher.
Gusty mountain winds are also anticipated, as the midweek winter storm makes travel conditions hazardous. Forecasts show gusts could approach 50 mph throughout the Sierra range, with gusts up to 100 mph possible Tuesday evening on high ridges.
Temperatures in South Lake Tahoe will plummet from the low 60s on Monday to the high 30s by Wednesday, with overnight lows falling into the teens by midweek.
The National Weather Service in Sacramento has posted a winter storm watch for the Sierra Nevada for Tuesday afternoon through Wednesday evening.
...WINTER STORM WARNING IN EFFECT FROM NOON TUESDAY TO 8 PM PDT
WEDNESDAY...

* WHAT...Total snow accumulations 3 to 8 inches above 5500 feet
  with 10 to 16 inches above 7000 feet. Winds gusting as high as
  45 mph.

* WHERE...Western Plumas County/Lassen Park.

* WHEN...From noon Tuesday to 8 PM PDT Wednesday.

* IMPACTS...Travel could be very difficult. The hazardous
  conditions could impact the morning or evening commute. Gusty
  winds could bring down tree branches.