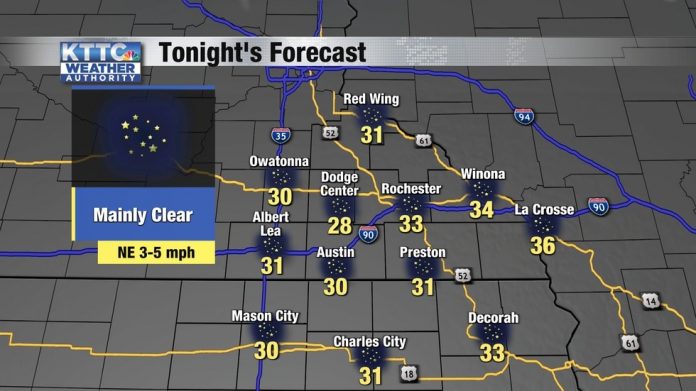 According to KTTC-TV in Rochester Minnesota, temperatures will dip below freezing in some areas and frost is possible:
…another cold front is pushing through the Upper Mississippi Valley, drawing in a reinforcing shot of chilly Canadian behind it for the middle of the week. We'll enjoy plenty of sunshine throughout the day, but temperatures will still only reach the upper 50s in most locations locally as the warmth of the sun will be offset by the cool air mass.
…
Temperatures will drop to the low and mid-30s across the area late in the night and widespread frost is expected in the area, so you'll want to cover sensitive plants or bring them inside to protect them.
The National Weather Service office in Duluth MN reported many temperatures near freezing on Tuesday night, with Duluth dropping to 33°F:
Freezing temperatures and the chance of frost have now moved east in Michigan with the NWS Forecast Office Marquette, MI reporting frost advisory and a freeze warning in effect.