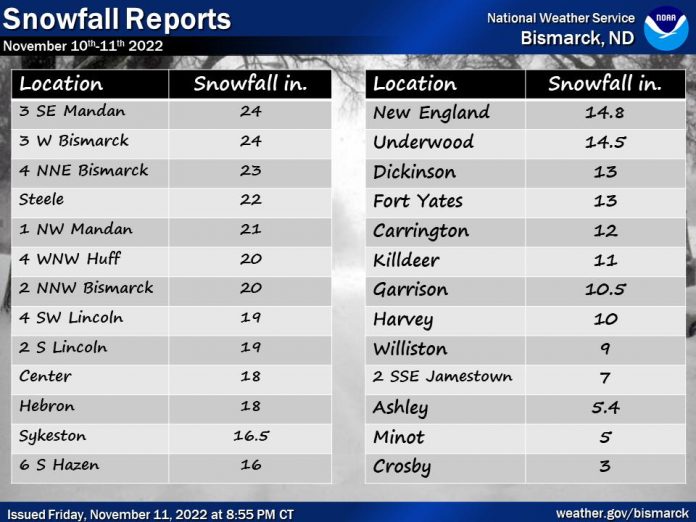 AccuWeather reports the first blizzard of the 2022-2023 season caused accidents, forced road closures, and dumped record amounts of snow for November across North Dakota.
"The first blizzard of the season left behind a significant mark in the northern Plains as it unleashed fierce winds, heavy snow, and ice that led to treacherous conditions along the region's main travel routes Wednesday night into Friday," writes AccuWeather.
Combined high winds and heavy snow created whiteout conditions which resulted in the North Dakota Department of Transportation (NDDOT) posting "no travel" advisories along parts of Interstate Highway 94 on November 10.
One to two feet of snow fell across most of the state, says AccuWeather. Snow in Bismarck shattered the previous record for November snowfall, when the state capital received 17 inches of snow on November 10 alone. The previous record snow amount falling on a single day in Bismarck was 10.8 inches on November 24, 1993. To put this in context, Bismarck's average for snowfall for the entire month of November is only 8 inches.
In southeastern North Dakota, before the winter storm's precipitation turned to snow, sleet and freezing rain created dangerous road conditions. In response, the NDDOT closed a portion of Interstate Highway 29 between Fargo and Grand Forks for several hours. A number of multi-vehicle and single vehicle accidents were reported on roads and highways in parts of North Dakota and western Minnesota due to poor driving conditions during the blizzard.