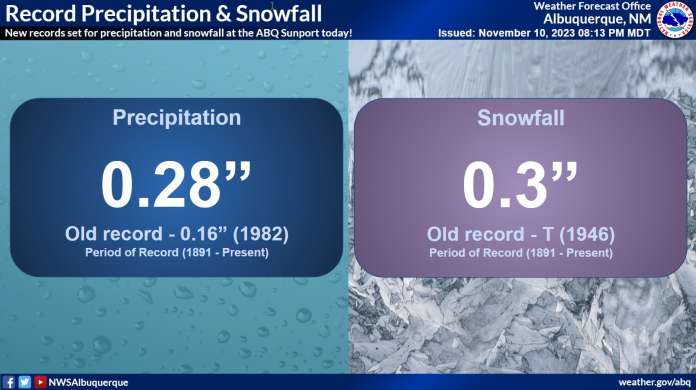 Cold weather blew into Albuquerque over the weekend beginning November 10, delivering rare for this early in the season snow, reports Iowa.media and KRQE News 13.
"Over the weekend, snow fell in Albuquerque and this was caught on video," reported Iowa.media referencing a Newsbreak story. While not the snowiest weather ever recorded, it is still quite a rare phenomenon in early November.
"People throughout the Metro woke up to the first snow of the season Friday morning with a cold front bringing inches of snow to parts of Albuquerque and other spots in the state," KRQE wrote. "The Foothills and areas further east saw up to four inches of snow this morning."
The Albuquerque area receives about 9 inches of snow across a typical winter season, but relatively rarely does it get measurable snow in early November, so the four inches that fell on November 10 is unusual, equaling almost half the area's normal seasonal total.
KRQE's Chief Meteorologist Grant Tosterud said he was hopeful this early snow was a sign of the winter to come:
With El Niño on the horizon, Tosterud says New Mexico may be in for a wild winter: "El Niño is a good thing for us here in New Mexico. That kind of weather pattern usually means more snow, more rain, colder temperatures for us here in New Mexico. So, hoping that all pans out and brings us a wetter winter."