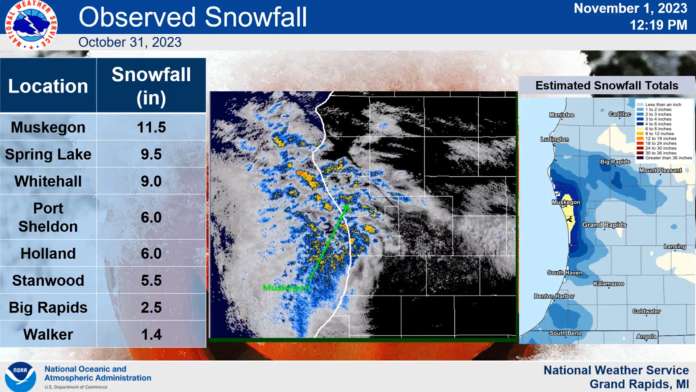 More than 11 inches of snow fell in North Muskegon, Michigan leading to power outages and the cancelation of Halloween celebrations, reports WZZM 13.
"Halloween was pretty scary in West Michigan this year as heavy, wet snow fell from late-morning through early evening, hitting the lakeshore areas hardest," WZZM 13 said. "Heavy, wet snow fell on October 31, 2023, canceled trick-or-treating and caused widespread power outages."
"In Muskegon, the snowfall total as of 8 pm was 8.8 inches, a record for October 31, and the second-highest, single-day amount prior to November 15," said WZZM 13.
Michigan is not the only state in the Northern tier of the United States receiving snow in late October into early November. Reports indicate that Northern Ohio, Pennsylvania, upstate New York, Connecticut, Rhode Island, Vermont, New Hampshire, Massachusetts, and Maine could all have snow delivered soon from an arctic cold front blowing out of central Canada.
Accuweather reports that large swath of the United States, stretching from Minnesota, down to Charleston, West Virginia, and from Washington, D.C. to up to New Brunswick, Canada are expecting temperatures 5 and 15 degrees below their normal average for the time period through November 2.