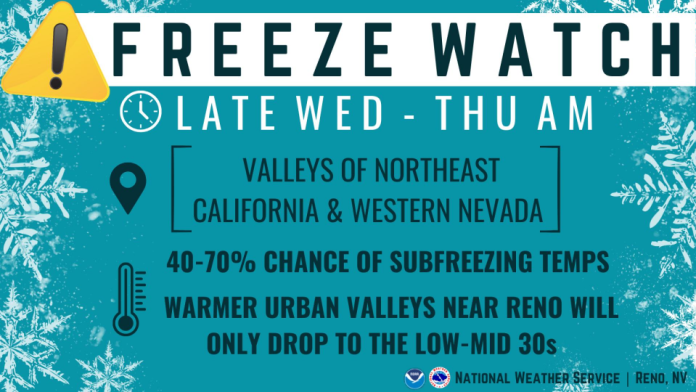 Months before Winter officially arrives, a winter-like storm is moved into California and Nevada earlier this week.
Following Tuesday's cold front passage, a strong and cold Pacific high pressure dome is expected to move into northwestern California on Wednesday, bringing colder temperatures and significant wind chills. The high will result in significantly increased wind speeds across the two states, which combined with low temperatures, will make wind chill a problem for people outdoors.
The National Weather Service in Reno issued a Freeze Watch and Frost Advisory for the Northern Sierra Nevada, Reno, Carson City, and surrounding desert areas.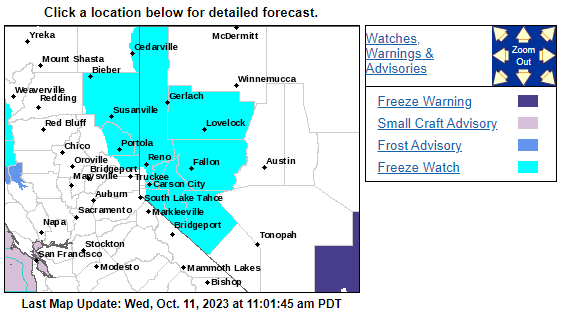 This signals that the first below freezing temperatures of the season are likely in the city of Reno. Temperatures below freezing have been recorded in Truckee and Lake Tahoe throughout September and October at night, but with the cold high pressure dome moving in, the Wednesday October 11 overnight lows are forecast to be in the mid-20s and will be the coldest so far this fall.
The NWS Reno writes:
Very cold, subfreezing temperatures are likely Wednesday night into Thursday morning, including the valleys of NE California and western Nevada. A Freeze Watch has been issued for these areas as overnight lows will drop to the low 30s to upper 20s. Some of the warmer urban valleys near Reno will see lows in the low-mid 30s.
Forecasts suggest that colder than normal temperatures will continue into Friday and will likely return to normal for the weekend.