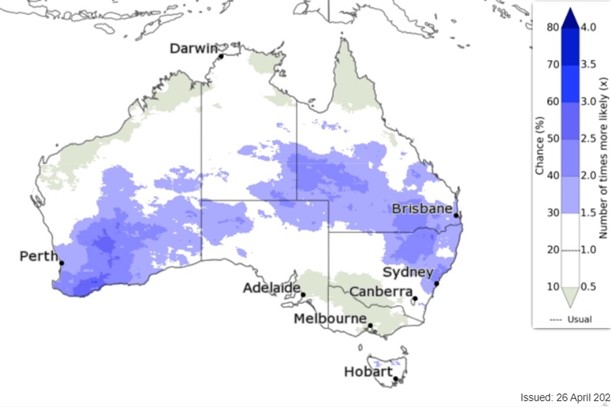 Above: There's a chance large parts of Australia could record unusually cool temperatures in the first week of May. (Supplied: BOM)
The Australian Broadcasting Corporation (ABC News) has reported temperatures across the second largest Australian state, Queensland, on the north east portion of the continent, fell sharply in the waning days of April.
ABC News writes:
The pre-winter cold spell is expected to linger until at least mid-week.
Bureau of Meteorology [BOM] forecaster Harry Clark said a low-pressure trough moving across Queensland would bring cooler air to southern and central parts of the state … [resulting in] maximum temperatures, particular for inland areas, would be up to 10 degrees Celsius below average.
A graphic provided by the BOM (seen above) indicated that the unusual cold would not be limited to Queensland, but rather that below normal temperatures would be felt over a large swath of the continent.