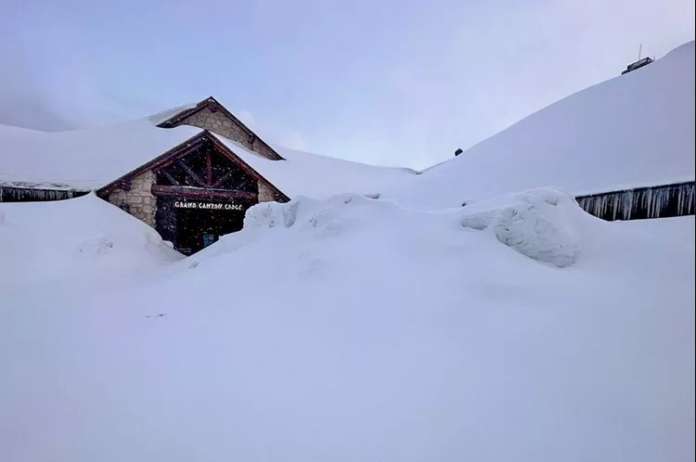 Above: The Grand Canyon Lodge as seen on April 4, 2023. The North Rim of Grand Canyon National Park has received more than 250 inches of accumulated snowfall this winter season. PHOTO: E. SHALLA/NPS PHOTO/COURTESY OF GRAND CANYON NATIONAL PARK
Northern Arizona's heavier then usual snowfall this season is delaying the opening of several popular tourist areas along the north rim of Grand Canyon National Park, according to the Associated Press, which reports:
Like other parts of the West, northern Arizona received an abundance of snow over the winter, and park officials say pushing back the opening from mid-May to June 2 will give them more time to plow the main state road that leads to the rim and allow staff to reopen visitor facilities.
…
According to park officials, the North Rim has received more than 250 inches (6.35 meters) of accumulated snowfall since October. That marks what is believed to be the second-snowiest on record for the North Rim since 1925, although there are some years of missing data during that time period.
The Grand Canyon's north rim normally receives an average of 126 inches of snow annually, during the fall and winter season. This year's snow accumulation is nearly double that, delaying the opening of the Grand Canyon Lodge until June 2, and the North Rim Campground until June 9.
Other public lands in the Western United States are also delaying their spring/summer openings due to this winter's deep snow. For example, Electroverse reports:
Cedar Breaks National Monument, Utah, is at 217 percent of its normal snowpack. Drifts surpassing 30 feet are still blocking State Route 148, the main road through the park, making entry possible only to those with snowmobiles.
At Great Basin National Park in eastern Nevada, record snowfall will delay the opening of Wheeler Peak Scenic Drive, Wheeler Peak Campground and several hiking trails, including the Alpine Lakes Loop, according to a park press release, after more than 7 feet of snow settled here, busting an all-time snowpack record set back in 1952.
With more snow expected in some of these locations, their openings could be delayed even longer.