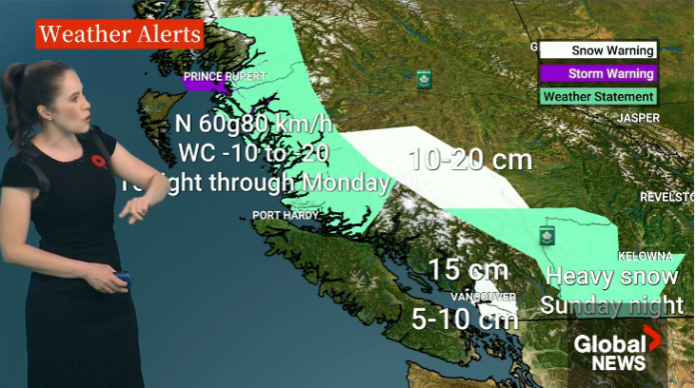 Heavy snow in British Columbia in early November is raising the hopes of ski resort operators in the province, while it has resulted in weather warnings in the province's metropolitan areas.
Global News Canada reports Environment Canada has issued snowfall warnings for Metro Vancouver, the Lower Mainland, Howe Sound, Chilcotin regions, due to the expectation that the winter storm front which has already delivered heavy snow in the mountains, will begin to dump heavy, wet snow on lower regions as well.
"A low-pressure system will approach B.C.'s South Coast (Saturday night) bringing rain and snow to the area," Environment Canada said in an alert, according to Global News Canada. "Wet snow is expected to fall around sea level but snow accumulation will likely be around 100 metres in elevation."
If expectations are met, Metro Vancouver, could see five to 10 cm of snow, while Howe Sound could receive approximately 15 cm and Chilcotin around 10 to 20 cm.
In the mountains of British Columbia, World News Era reports ski resorts are celebrating, not bemoaning the early November snow.
"It's beginning to look a lot like ski season," writes World News Era. "An atmospheric river that hit B.C.'s coast on Thursday, and then barreled inland, dumped snow across large swaths of the province.
"While it made for terrible driving conditions along mountain highways, ski hills and resorts were celebrating the early wintry weather," World News Era reports.
Ski resorts across British Columbia, from North to South and from the Coast, inland reported a wide variance in the amount of snow falling by November 4. Big White Ski Resort near Kelowna reported about 45 cm of new snow had fallen there since November 3. Apex Mountain Resort reported receiving approximately 38 cm of fresh snow, and Baldy Mountain Resort saw 30 cm of new snow. On Friday, November 4, Revelstoke Mountain Resort and Fernie Alpine Resort both saw 9 cm of new snow fall. Kicking Horse Mountain Resort saw 28 cm of new snow fall on Saturday, November 5 alone.
"On the South Coast, Grouse Mountain has 36 cm of new snow, Cypress Mountain has 26 cm over the past 24 hours, while Whistler and Blackcomb reported 19 cm over the past 48 hours," continued World News Era's alpine ski report.